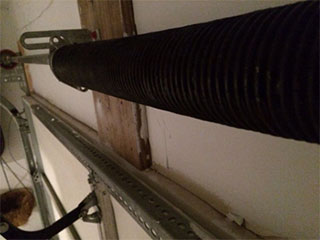 Springs are the parts of your door system that are in charge of supporting its heavy weight. Depending on what type of door you have, and how much it weighs.
Extension springs are the older type that is still quite common today. They are not as strong and the nature of their action makes them less durable as well, so at least two are often required. This type of springs extend and contract in order to lift and lower the door, and therefore they are far more likely to go whipping around your garage when they break. Torsion springs, on the other hand, are a different story.
How Do They Work?
The torsion spring is mounted horizontally over the door and placed around a shaft. The ends of the shaft are attached to the cable drums. The spring creates torque as it twists from one side and remains stationary on the other. There are some variations among different variations of this type of component, ranging in terms of flexibility, durability, and strength.
Dealing With Problems
Although torsion springs are considered far safer than the extension ones, they are still dangerous. Any component that under such an enormous amount of stress on a daily basis can lead to catastrophic results when mishandled. Our technicians can help you in several ways. If torsion spring replacement is in order, count on us to perform it safely and quickly. Adjusting this crucial component is another thing we do, as well as lubricating it and ensuring that its performance stays smooth and efficient.
Count On Us
Garage Door Repair Wellington is here to help you with any torsion spring related need. We can also provide you with rust resistant and more durable options. When a spring breaks or needs some form of maintenance, remember to contact our team. No problem is too complex for us.