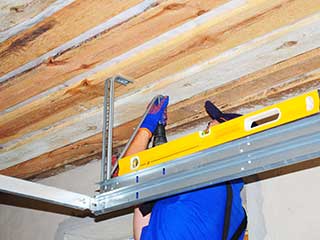 A system as complex as an automatic overhead door can experience its wide share of issues. No matter where the problem lies, odds are you'll need a professional technician to take care of it for you. The dangers involved in attempting to do anything by yourself are far too risky to be worth the trouble.
Replacing Broken Springs
The most common issue that can plague garage doors is a broken spring. Whether it's one of the extension ones or the main torsion one, the situation will more than likely render your door inoperable and you'll need a specialist to restore its operation. Our team can preform this procedure carefully and make sure your door is fully operational once again.
Opener Related Issues
The motor that drives your garage door's operation is the opener, and since this is an electro-mechanical unit, it can suffer from different types of problems. From worn out motor gears to broken pulley system, and even something to do with the interior circuit board, you can rely on our experts for complete assistance.
Troubleshooting the Problem
Sometimes the issue that's causing your door to "misbehave" isn't clear from the get go. Not to worry, our technicians can decipher any underlying problem, and we'll make sure to examine every inch of your system until we discover exactly where the root of the problem lies. Once we do, count on us to repair it on the spot without wasting any time.
We're Here For You
Remember, the majority of problems require an expert's assistance. That's what our team at Garage Door Repair Wellington is here for. We're always ready to help you out with any type of issue, and our specialist can repair or replace any part of your system, regardless of its make and model. Call us today.
We also take care of:
Liftmaster Garage Door Maintenance
Remote Opener Clicker Replacement
Broken Garage Door Spring Replacement
Garage Door Off Track Repair