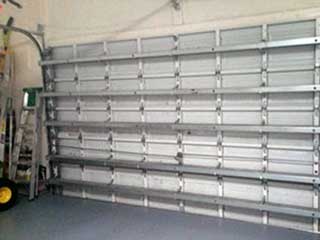 Our company specializes not only in repairing and installing automatic garage door systems, but also in maintaining them. We can make sure all of the different parts are aligned correctly and aren't suffering from any underlying issues.
Springs Need Extra Care
Your garage door springs are under a lot of stress day in and day out, and any attempt to take care of them can be dangerous, due to the great amount of tension involved in their operation. Our technicians can perform regular spring adjustment and lubrication that will ensure that these crucial components aren't getting too worse for wear.
Checking The Opener
Your system's opener, which is the device that allows it to become fully automated, is essential an electro-mechanical motor. That means that a lot of different problems can affect it, so regularly examining all of its different working components can prevent a lot of issues from manifesting. Our team will inspect the motor gears and the circuit board to see that there are no worn out or fried parts. If we find something wrong, count on us to repair or replace it on the spot.
Safety Sensor Testing
The photo-electric eyes that your opener uses in order to detect an obstacle in the door's path must be aligned correctly. If they become misaligned, they can cause your door to reverse inexplicably, or worse, close down on a person that's standing under it. Our specialists will test your safety sensors and realign them if they fail to be working properly.
Schedule an Appointment
Our experts at Garage Door Repair Wellington can make sure your system stays in a great working condition. We also perform a variety of different services, all of which are designed to meet your complete satisfaction. Call us today for any garage door related need.
But wait, there's more! We also offer:
Garage Door Tune Up Services
Opener Sensor Replacement
Extension Spring Adjustment