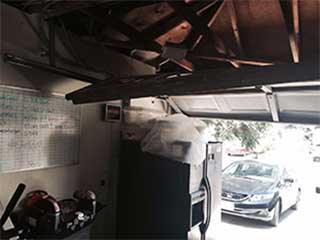 While major garage door repairs definitely require professional assistance, many frequent issues can be very simple for homeowners to fix by themselves. This can help you save a great deal of money and by preventing a minor issue from developing into a major malfunction.
Noisy Door Operation
A very common complaint about many models of garage door openers is screechy or excessively noisy operation. This can be a simple matter of checking the fixtures of the various parts, or as complex, as having to adjust the chain-drive your unit is (most likely) using. Loose or rusty screws or bolts are among the usual suspects when it comes to rattling or clunking noises. These can easily be tightened to - at the very least - rule them out as the root of the problem and ensuring that the system is fastened correctly.
Door Failing to Fully Close
If your roll up garage door will not fully close all the way and automatically returns to the open position, then you may have a problem with your safety sensors. This can simply be a matter of checking the sensor for dirt or debris. This can accumulate in and around the sensor and cause it to detect an obstruction where none exists. It is also worth checking if any items inside or outside of the door are blocking the sensor. If these methods do not resolve the issue, they could have gotten misaligned. These components are very delicate and must be carefully realigned by an expert.
Remote Control Problems
Many other common issues can actually be the result of a problem with your opener's remote control. If your system has lost power at any point, it may be that all it needs to be resynchronized. This process varies according to the particular model of your opener, but there are usually a complete set of instructions provided in the manufacturer's manual on how to get this done. Oftentimes, however, if your remote doesn't seem to be communicating with the unit correctly, all it would take to restore its operation is to simply change its batteries. This is a simple yet often neglected solution, so be sure to check the batteries before doing anything else.
Know When to Call The Experts
If the issue is more severe and requires a professional technician's assistance, then contact our team at Garage Door Repair Wellington. Many parts of your door can be extremely dangerous, so it's best that you have us deal with it safely and quickly. Call us today.